Table of Contents
Bořkův běh - sportovně-společenská akce pořádaná komunitou běžců na katedře mechaniky.

Rok utekl jako voda a další ročník Bořkova běhu je opět tady! Je to výborná příležitost prověřit svou kondici po koronavirove izolaci, zvednout se od počítače a přijít si prokysličit mozek a protáhnout atrofované svaly v rámci dnes již tradičního běhu ve Stromovce, obyčejně spojeného s následnou barbekjů party přímo v cíli (mňamka na grilu a pivko pro každého účastníka) a následným posezením v blízké restauraci. Pokud chceš, můžeš místo běhu soutěžit v závodu na kolečkových bruslích. Pokud nechceš sportovat, můžeš letos přijít účastníkům fandit. Sleduj online dopředu oznámené běhy a přijď své kamarády podpořit.
The year passed like water and another year of Bořek's Run is here again! It's a great opportunity to test your fitness after coronavirus isolation, to get up from the computer and come to oxygenate your brain and stretch your atrophied muscles in the traditional run in Stromovka, usually followed by a barbecue party right at the finish line (grilled food and beer for each participant). If you want, you can compete in a roller skating race instead of running. If you don't want to play sports, you can come to help and support your friends.
Důležité informace:

Kdy/When: Letošní ročník (2023) se bude konat 6.června od 17:30 / This year's edition (2023) will take place on 6th June, from 17:30

Startovné: 80 Kč (zahrnuje obcerstvení v cíli) / Entry fee: 80 CZK (includes refreshments at the finish).

Kategorie/Categories: Master (studenti, doktorandi, technici a asistenti), Elite Senior (docenti, profesoři).

Ceny pro vítěze: Diplom pro prvního a posledního v kategorii, zvláštní cena pro absolutního vítěze / Prizes for the winners: diploma for the first and last in the category, special prize for the overall winner.
Další informace: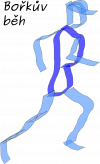 borkuv_beh/borkuv_beh.txt · Last modified: 2023/05/10 12:17 by bp
---